Welcome to My Daewoo Page

Daewoo is unkown brand in our markets but has been building cars for quite a while,they are robust cars that you can get for a low price.
I have a Daewoo Nubira SW and this is what i can tell you about it. The Daewoo Nubira is a great car, that will give you the luxury and space from a large family car for the price of a small family car.
With the Nubira you get a great value for the money, belive me i bought one.
Overview

Interior space is generous, particularly in the rear seat where there's plenty of room for tree adults. The boot is also bigger than average.
Nubira is exceptionally comfortable by class standards, with soft, supportive front and rear seats and a supple Euro-style ride.
The driving position, however, can present problems. Short drivers must sit close to the non-adjustable steering wheel to reach the offset pedals in a deep footwell.
The Nubira's interior layout and trim is clean, simple and attractive, light years ahead of any previous Korean effort in execution and ambience. The controls are less smooth and tactile than those in today's Japanese cars, and interior fit and finish is not quite in Japan's league, but Nubira's quality is certainly competitive.
A long standard feature list is part of the Korean deal. Nubira includes an in-dash CD player - which skips mid-track on any decent bump - power windows, central locking, height-adjustable driver's seat and front belt anchorages and body coloured bumpers. The wagon adds a 60/40 split-folding rear seat and roof racks.




Handling

The Nubira's 1.6 is a little weak at the bottom end, but mid-range tractability is reasonable, with good performance in the top half of the rev range.
Anyway who ever wants a extra juice always has the 2.0L.
The European influence is evident in the Nubira's better-than-average handling. The heaviest car in the class, it sits firmly and securely on the road.
The steering is less sharp just off centre than most Japanese rivals, but has good weighting and road feel at highway speeds. In tight bends the Nubira scrubs its B-grade Kumho tyres and wants to run wide, but under normal conditions it is vice-free. Rough surfaces present no problems either, thanks to the independent suspension's long travel and well tuned dampers.





Detais

Nubira wins over car buyers with sophisticated styling, exceptional comfort, solid performance, and outstanding value.
Targeting the segment with a choice of sedan or wagon body styles, Nubira ranks right up with the best in comfort and space. Driver comfort and ergonomics are excellent with an 8-way adjustable driver seat with lumbar support, 5-position tilt steering column, power steering, 8-position seat belt height adjustment, central door locking, and electric outside mirrors with demisters. Passenger comfort is equally excellent with plenty of head, leg, and foot room in the back seat, air ducts under the front seats. Nubira also has plenty of room for cargo with 370/900 litres (sedan) and 550/1,840 litres (wagon) of space available thanks to the versatile 60:40 split folding rear seat.
Storage features like slide-out cup holders, a card/ticket slot, coin box, floor console box with CD/cassette holder, and seatback pockets help the driver stay organised. Underbonnet insulation and a six-layer dash panel and floor construction keep the cabin serenely quiet. Finally, gas dampers make boot lid opening even easier.



Send me an e-mail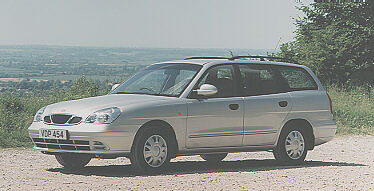 Daewoo Nubira SW 1.6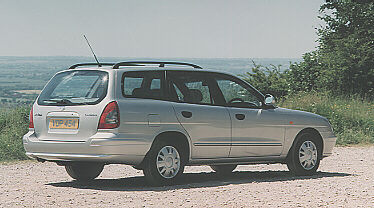 More Pictures

More Nubira and other Daewoo pics in the photo Gallery come on and see.

For any question ...